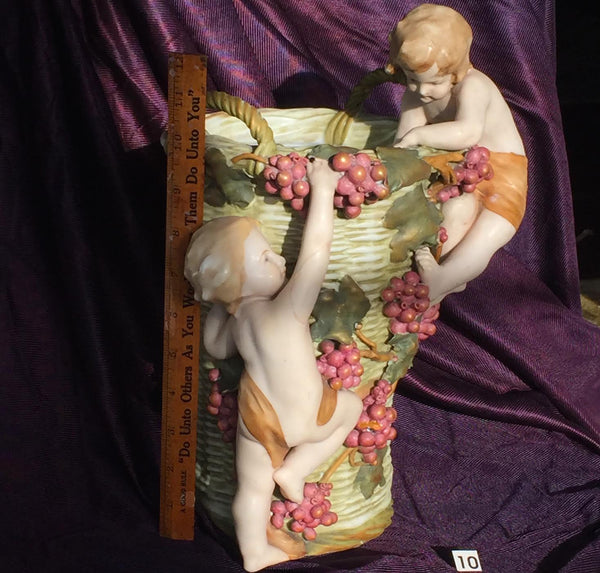 Amphora Austrian Pottery Vase with Cherubs & Flowers circa early 1900's
Large Imperial Amphora vase with woman and cupid. Impressed with the Imperial Amphora Turn mark used 1903-1918, the Reissner & Kessler Crown, Amphora, Austria, and numbered 831 46 B. This is a rare one. Note the realistically sculptured applied flowers typical for the period, delicate flower buds and petals.
Size:  21 3/4 inches tall  12 inches wide.
The vase is a heavy one an impressive 12 lbs. Other photos available on request.
Maker: This is a fine example of Imperial Amphora. Impressed marking Amphora and Austria used between 1894-1904 together with a crown and numbers. There is a crown mark with 'Amphora' and 'Austria' on the bottom. With the bottom glazed it is difficult to show the maker mark so I adjusted the contrast of the picture so it appears darker but it shows the makers impression better.  
The vase bears the pictured impressed "Crown" mark, oval "AUSTRIA", and oval "AMPHORA". It was produced by the Bohemian firm Riesneer, Stellmacher & Kessel Amphora, which was founded in Trnovany / Turn-Teplitz, Austria in 1892
Description: The surface is highly textured to resemble basketry and lightly shaded with soft tones. Two cherubs hang from opposing corners amongst thick floral garlands.
The piece is characteristic of the Art Nouveau earthenware designs produced by the firm at the turn of the century / early 1900's. It has a striking figural form with embossed woven basket exterior, rope handles and rope border bands. The surface is draped with applied vines with small clusters of tiny pink roses and foliage covering the surface. The roses and foliage are hand painted under glaze in rich organic shades with a matte finish.
Provence: I began collecting Amphora after inheriting one interesting Nouveau-styled 1900's grape vase from my aunt's collection. She was an antique collector, writer, and was married to the Baltimore critic HL Mencken. Upon research I found   the unusual ephemeral grape vase to be Amphora, and soon after researching the interesting world of Amphora, I began my collection. This cherub vase was purchased in New Orleans from a stately mansion in the Garden District.