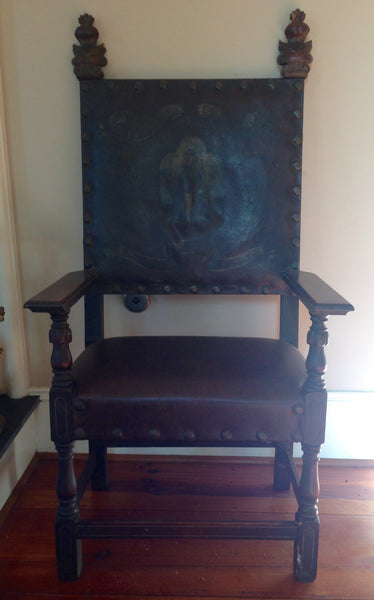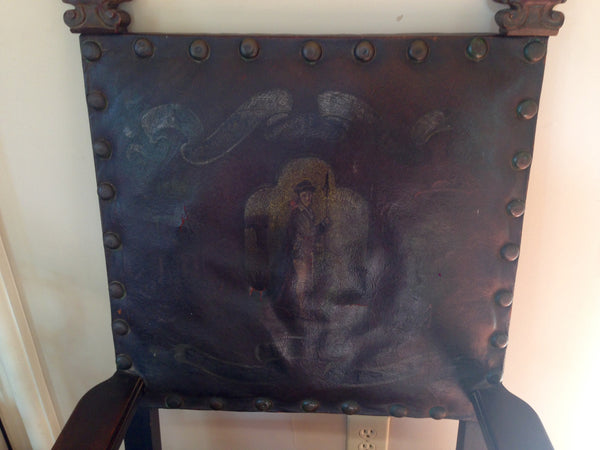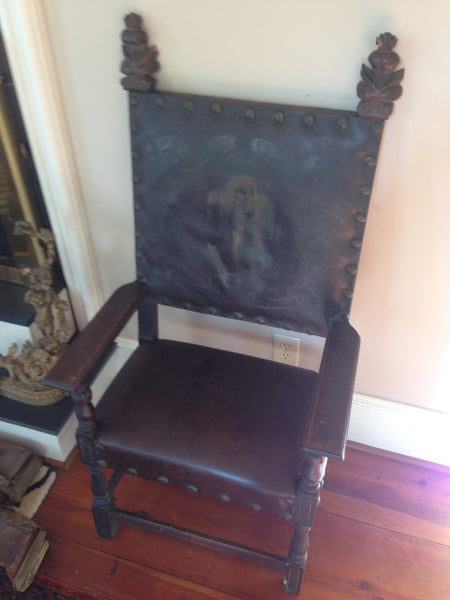 Antique Gothic Revival Style Chair
The  Gothic chair is with a leather seat and back and chunky large nail head studs border the frame. The back of the chair features painted scrolls at the top and bottom. Bordered with crown motifs, in the center is a vignette scene of a man costumed with staff in hand and detailed carefully.

 The fine detailing in colors of browns skillful use of color and engaging composition is classic scene. The chair has a beautiful aged look and the colors have faded with age only giving it a more distinct beauty.

It is an unusual old chair, with turned legs, and is made of solid wood. The chair is carved in a very similar manner to Gothic, and display a wonderful aged patina with tall carved finials, adding a throne like feel to it.

Size: 23 " wide  x  about 44 "  tall.

The Gothic Revival style was rooted in England, where medieval elements had never altogether disappeared from the architectural vocabulary.

This is a chair that is a blend of styles. Neo Classical and Neo Gothic, incorporating a little of both. A collectible for those collectors looking for that eclectic steampunk style.
Steampunk usually has very Victorian influences but it's the modernization and re-imagining of the work that sets the two styles apart. It is a genre is based on a fantasy of futuristic Victorian society the realization of that idea will lay solely in the hands of the beholder.

Condition: The frame is sturdy with some wear typical of the age. It is in very good condition with only minor flaws and wear with this type of antique. There is fading on the leather painting, but with no major chips, cracks, or repairs. There is a few small spots of losses to the wood and decoration, some minor rubbing to the colors with surface scratches and scuffing here and there, and other signs of light wear consistent with age.