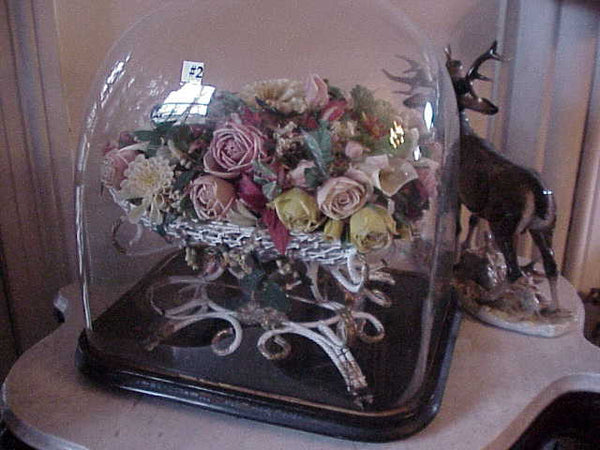 Renaissance Victorian Wax Floral Centerpiece: Provenance HL Mencken
An exceptional 19th century Victorian wax floral arranged in a basket and presented under large dome glass. These were used in stylish Victorian drawing rooms and as an ornament in the dining room. These are quite rare and this survives as an original example. Good overall condition consistent with age - fading and minor loss to floral petals.
Description: 
This rare piece depicts a unique composition of flowers, from the elongated stems of lilies and to other gladiola type florals in
a impressionistic rendering. It must have taken a Victorian lady many days and hours to work on this lovely, piece of art.
I believe these wax floral arrangements are remniscient to the so-called memento moris.(where a dying flower or fallen petal furthered by their own inevitable transformation are emblematic of mortality and the passing of time.  A Latin phrase meaning remember you must die.)

It is a delightful Victorian Centerpiece, with a charming Victorian style.
The flowers are in varying muted shades of brown, rose and have a majestic beauty.

Flowers, were endearing to many in the Victorian Era. Flowers epitomized the romance of the era,  so associated to the Victorian Era. This memento is handsome in design and workmanship with detailed elegance  .  

Size:  approximately 24" in length and 24" in height
Provenance:  H Mencken and Sara Haardt Mencken
The value of Victorian Floral arrangements such as this one depends upon authenticity, condition, uniqueness or degree of rarity, age, and quality of workmanship. In this case, the noted Provenance adds greatly to the value.
This Centerpiece belonged to my Aunt Sara Haardt and her husband HL Mencken and I inherited it many years ago.
One of Baltimore's most celebrated literary figures is surely H.L. Mencken.
His wife, my aunt, Sara Haardt, was a Southern expatriate writer. In 1920, Sara Haardt fled the South with all its smothering pretensions. She worked in Hollywood in 1927-28 with Old Famous Players of Paramount Studios and sold one of her screenplays to Jim Cruze. In her youth, she was neighbors and friends with Zelda Fitzgerald, and in the heat of the  roaring 20's "Jellybean era", a term coined to describe her flapper- jazz generation. She married H. L. Mencken, the famed Baltimore critic in 1930.

With a revived interest in their life and writings and the ongoing interest in H.L. Mencken, certainly this Centerpiece would be a treasure of Mencken memorabilia for the collector.