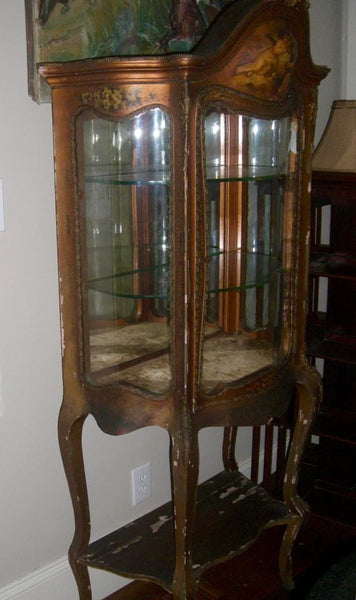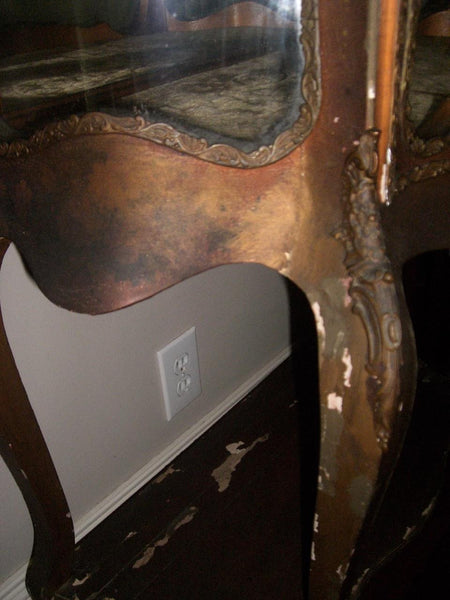 Vernis Cupid Cabinet 19th Century
A early 19th Century vitrine cabinet in French rococo manner, painted in Vernis Martin lacquers. This fine cabinet is with serpentine glass on the two sides and in the central door, the glass mounted within ormolu moldings. 
There are elaborate ormolu mounts in the sabots on the lower legs and feet, and further mounts on the corners. There is an ormolu shell mounted at the top center.
The cabinet is fitted with two glass shelves.

Above the door is a bombe panel exquisitely painted with two lovely winged cherubs in celestial array with a red heart motif.  On either side there are additional floral hand painted accents. The painted creation includes flowers, vines, ribbons, scrolling coquill designs.

This is narrow single-door armoire, and was typically used by wealthy French aristocrats for storage of their headpieces and items of clothing or other smaller collections. These handmade couture cabinets would be proudly displayed immediately inside the entrance of French homes as a status symbol. This kind of storage cabinet became popular in the late 18th Century when the in-fashion wigs and bonnets became rather large.

Lovely decorated elements of classical style and fine artistry with wonderful elaborate scroll work and delicate painted floral and foliage.- A true work of Art and would accent any prominent home with its majestic grandeur.

Date: French, Second Half of the Nineteenth Century or earlier.  

Furniture of this style of VERNIS MARTIN was created in the mid-18th century by the Martin brothers for French royalty. The finish they developed, known as "Vernis Martin," was a semi-transparent glaze used on papier-mache and other materials, given to a brilliant translucent laquer extensively used in the decoration of furniture, carriages and a multitude of small articles such as boxes and fans. There were four brothers of the family. They neither invented, nor claimed to have invented, the varnish which bears their name, but they enormously improved, and eventually brought to perfection, compositions and methods of applying them. At the height of their fame the brothers directed at least three factories in Paris and in 1748 they were all classed together as a " Manufacture nationale."

Dimensions:  need to remeasure- Approximately 24 " wide ,12 1/2" deep at center 67" tall at center front.
 
 A similar vitrine, but larger, sold at Christie's, New York, on 10 October 1995; that value used as a reference  by certified appraiser on this cabinet.  

A magnificent  French vitrine cabinet.

Cabinet Condition:  For well over one Hundred years old+, this enchanting piece has stood test of time, but there are age related issues. Overall condition is good but with considerable  gesso and gold loss, not unusual for such age. The ormolu mounts have lost an amount of their original gilding, and paint is missing in areas. 

Please refer to the pictures for age related imperfections. The minor fading of the colors and finish exists, and the ormolu's have darkened due to extensive age.